GIFT (Generations in Fellowship Together)
GIFT is a monthly potluck group that meets on the second Wednesday of each month from 5:30-6:30pm in our Fellowship Hall. We pray, eat together, and share in our "glads and sads" for the month behind us or the months ahead.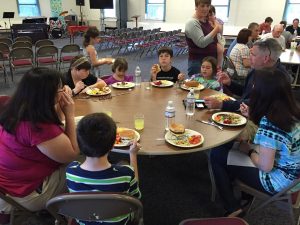 All people are invited to bring a dish to share for 15-20 people and join us in this fellowship  opportunity. This is a great way to get to know other members of the church in a casual, fun, and relaxed environment.
Adults and children begin the evening in prayer together in our chapel. Adults then engage in interactive, engaging and thought-provoking adult education led by Pastors Brian and Denise while our children share in faith formation and creative play led by our Children's Ministry Coordinator, Rachel Boden. Nursery care is available for our youngest attendees. We conclude around 7:30pm each night so there is plenty of time to get little ones to bed. We look forward to seeing you on Wednesdays! Contact Brian Maguire or Rachel Boden for more information.
Mom and Me
The Mom & Me group is a weekly gathering for moms and their preschool age infants/children to share encouragement, support and laughter with one another. Moms experience a judgment free zone in which to share the challenges of parenting while the children learn to play well with others. This group meets Fridays from 10:30am to 12 noon. Age appropriate toys are provided. Grandmothers have occasionally dropped in so their grandchildren can play with others. Pastor Denise is present as another "shoulder to cry on" for both moms and children!
Young Adult and Family Outings
Young Adults and Families activities are planned monthly which may be dinner out (children included) at a local restaurant, or an activity such as a hayride and pumpkin picking in the fall or a cookout. Visit our Announcements and Events page for information on these special outings and activities! A "parents morning out" is offered in early December providing parents with kid-free time to prepare for Christmas while the children play, do age appropriate crafts and eat lunch under the watchful care of "Snugglebunnies" (experienced moms and grandmothers).
Theology on Tap
FIRST AND THIRD FRIDAYS OF EACH MONTH, 5:00 p.m.
BUFFALO WILD WINGS AT TOWN AND COUNTRY MALL, KETTERING
We hear of the conversion of water into wine at the marriage in Cana, as of a miracle. But this conversion is, through the goodness of God, made every day before our eyes. Behold the rain which descends from heaven upon our vineyards, and which incorporates itself with the grapes to be changed into wine; a constant proof that God loves us, and loves to see us happy!
Benjamin Franklin (1779)
Come and join us for fellowship, theological conversation both profound and inane, and shared enjoyment of the original purpose for grain (or such other beverages as you may prefer) on the first and third Fridays of each month with Pastor Brian at the Buffalo Wild Wings at the Town and Country Mall in Kettering. Topics from recent discussions have included how many angels may stand on a pin (answer: nine); the nature of Biblical hermeneutics (answer: it's complicated); the coolest sounding word in the Bible (answer: Tohu Wa Wohu); and, the relative clerical fashion sense of various denominational traditions (answer: Ethiopian Coptics win hands down). Join us for reverence and revelry as we share together our own myopic insights into the great cloud of unknowing as we follow our Lord Jesus in sharing together in good conversation and drink.
Discipleship & Small Groups
Many opportunities to further one's spiritual growth through classes, small groups and fellowship are provided by the Discipleship and Small Groups team at Fairmont. Adult Education classes offered Sunday mornings at 9:30 am encompass bible study and application to one's life, biblical ethics in contemporary society, church history, scripture and music. Read more
Women of Fairmont (WOF) play a vital role in the life of our church. Their purpose is to nurture faith through prayer, Bible study, fellowship and service to the community, both locally and nationwide. WOF are connected to the larger church through their participation in the Presbyterian Women of the Presbytery of the Miami Valley, the Synod of the Covenant and the Presbyterian Church USA. Read more
The Fairmont Men's Group is open to all men whether they are members of the church or not.   The gatherings provide a wonderful time of fellowship and always great food. The Lenten Breakfasts also provide nourishment for the soul.   Come and enjoy the Fairmont Men's Group. Read more