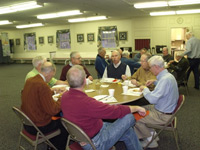 The Fairmont Men's Group began in 1973 as a bible study under Rev. Bick Lang.  The group met at 7:30 am and combined the study with serving breakfast to Fairmont High School students prior to their school day.
The group developed into a Lenten Breakfast Series each year where the men would enjoy the Christian fellowship of "breaking bread" together and developing themes that would include personal faith journeys of members and church staff, outside clergy, civic leaders, and book reviews.   These breakfast gatherings are held in the Fellowship Hall each week during Lent at 7:30 am.
Through the years the food has been prepared by members of the church.   Some of our chefs included Celia Percival, Bill Keadey, Bill Hibbs, and Dick Hook.   Everyone would agree that Fairmont has the best cooks in all of Dayton!
In addition to meeting for the six weeks of the Lenten season, the men meet monthly at local restaurants, city parks or at members' homes.   The regular gatherings have helped build lasting friendships.
In the spirit of Christian service the men have volunteered as waiters for church dinners, delivered Christmas gifts for the Jeremiah's Letter project, served lunch at the House of Bread, and cooked monthly meals for the Castle, a ministry in Centerville, for mentally challenged people.
The Fairmont Men's Group is open to all men whether they are members of the church or not.   The gatherings provide a wonderful time of fellowship and always great food.   The Lenten Breakfasts also provide nourishment for the soul.   Come and enjoy the Fairmont Men's Group.
If you would like to learn more about Fairmont's Men's Breakfast Group, contact Harry Bradbury at office@fairmontchurch.org.