Rev. Kelley Wehmeyer Shin
kshin@fairmontchurch.org
Rev. Kelley Wehmeyer Shin first heard a call to ministry in the painted desert of Ghost Ranch Retreat Center in northern New Mexico when a member of her youth group asked a simple question: "Why don't you go into ministry?" A seed was planted and, all these years later, God is still guiding Kelley through the voices and faithfulness of God's people.
Kelley grew up in Tulsa, Oklahoma, and was spiritually nurtured and, eventually, ordained at First Presbyterian Church. Years of worship, mission, fellowship, and christian education found voice through youth ministry, choir, camp counselor, lifeguard, and camp director at Camp Loughridge, owned by First Presbyterian.
After earning an undergraduate degree in Elementary Education at Oklahoma State University, Kelley felt called to take her love for education and meld it with the faith community of the church. She earned her Master of Divinity at Fuller Theological Seminary and was called to her first church in Long Beach, California. Since then, Kelley has served churches in Chicago, Illinois; Albuquerque, New Mexico; Freeport, Florida; Jemez Springs, New Mexico; Las Vegas, Nevada; Burke, Virginia; Xenia, Ohio and now at Fairmont in Kettering, Ohio. Kelley's cross country journey of churches can be attributed to falling in love with an Air Force officer, Kent Shin, and thus moving every two years once they were married!
Kelley and Kent met at First Presbyterian Church in Albuquerque where Kelley was Associate Pastor. They were married there in a wedding ceremony with eight hundred family and friends present! After retiring from the Air Force, Kent continued to work in the aviation industry and is Regional Sales Manager for Avionics Technologies, Inc. Kent is an avid golfer and plays violin in the Miami Valley Orchestra, Wright State Orchestra, and Yellow Springs Community Orchestra.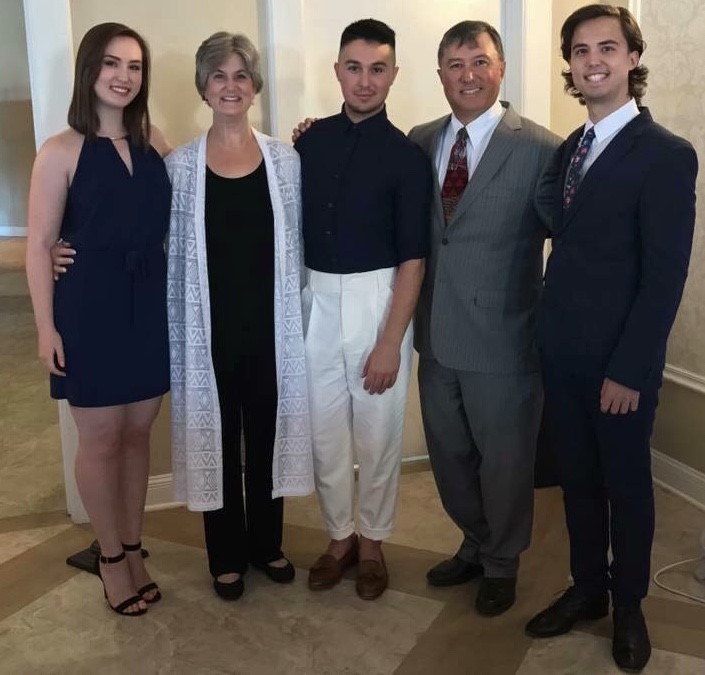 Kent and Kelley have three children. Darren is an actor, dancer, and performer in Los Angeles. Matthew is a recent graduate of the University of Cincinnati College-Conservatory of Music in cello performance. Rosemary is a junior at Oberlin College studying psychology and dance. Kent and Kelley also have a five-year-old Labradoodle named Moxie Jay.
Kelley is involved in ministry to the wider church through the Presbytery of the Miami Valley. She just  finished a year as chair of the Leadership Council, is the Moderator of the Presbytery, and served as one of the Commissioners to the 223rd General Assembly of the PC(USA). When not immersed in ministry, Kelley enjoys hiking, birding, collecting colored glass, and walking Moxie Jay.