The following local missions received financial assistance totaling $32,724:
Beyond the budget, the congregation participated in:
Through our recent 5th Sunday Mission Offerings, we sent additional funds to:
Sinclair Community College Multi-Faith Campus Alliance
Out of the Darkness Walk for Suicide Prevention
Shoes for the Shoeless
Kettering Supplies/Partners for a Healthy Youth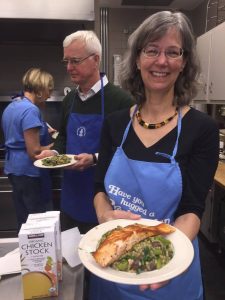 The congregation gave hands-on support to the following:
Third Sunday Mission Projects were held after worship monthly.  Throughout the year, our members made sandwiches and assembled packs of health and hygiene products for guests at House of Bread, randomly distributed hundreds of daisies around the community, attached notes of caring to food items for FISH/South Dayton Food Pantry, made fleece blankets for youth residents of DayBreak, collected diapers and children's clothing for Hannah's Treasure Chest, sent Valentine Cards to patients at the VA Hospital, and wrote various notes of love and support to family members who have lost a loved one in the previous year, our school-age kids, High School Seniors and Young Adults.
Members regularly helped cook and serve lunch at the House of Bread.  Additionally we periodically collected belts and socks.
Members make monthly visits to JFK Elementary School After-School Daycare Program to help with homework, play games, and complete craft projects.  We provided meals for staff on evenings of Parent-Teacher conferences throughout the year.
School supplies were collected for JFK Elementary School, as well as hats, mittens and scarves from the Mitten Tree.
Box Tops for Education were collected and given to JFK Elementary School.
Seven families received Christmas gifts and food and Easter Baskets of books and fresh fruit through Jeremiah's Letter.
Pop top tabs were collected for Ronald McDonald House
Food was collected and delivered to the FISH/South Dayton Food pantry.