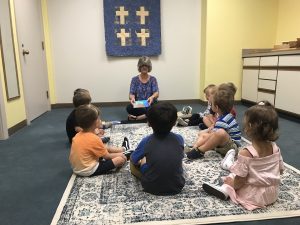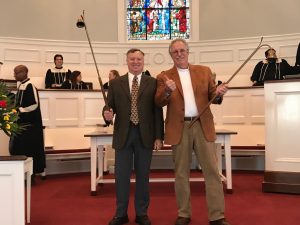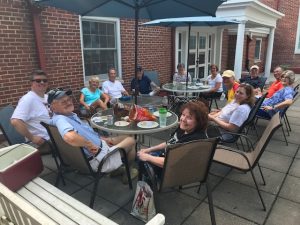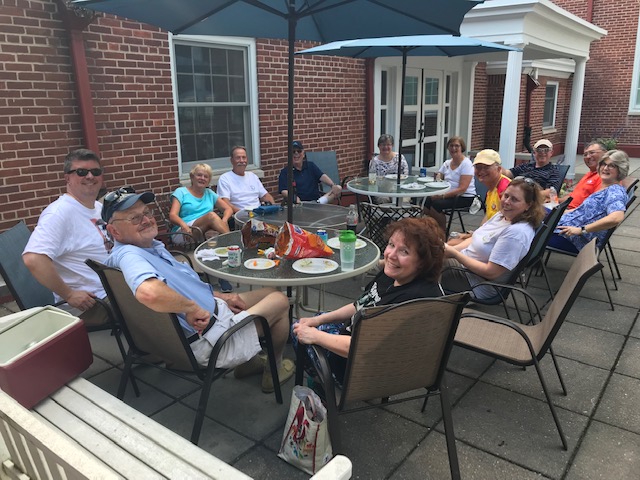 Connections: Israel and the Biblical World: Starting this Wednesday, September 11th at 6:30pm in the chapel and every following Wednesday evening, come and learn about the world of the Bible, specifically the geography, history, and culture of Israel that shapes our scriptures. Pastor Brian will be sharing from his extensive travels in Israel, Jordan, and Turkey. This will also be an excellent preparation for anyone who may wish to go on the Israel trip in February.
Bible Study: Pastor's Bible Study is on Wednesday at 2:00 p.m. in the Upper Room. This week we will be examining the Scripture passage from Luke 15:1-10. Everyone is welcome!
GIFT (Generations In Fellowship Together)  will meet this Wednesday, September 11, at 5:30 p.m. in Fellowship Hall. Please join us for an intergenerational potluck dinner. No RSVP is necessary. Bring a dish to share. GIFT meets each second Wednesday of the month. All are welcome!
Bell Choir rehearsals will begin this Thursday, September 12 from 6:00-6:45. We are looking forward to playing several times during the 2019/2020 season.
The Chancel Choir is practicing on Thursday evenings at 7:00 p.m. Child care is available. The choir welcomes new members at any time. Contact Vicki Ramga for more information or simply show up. We have music ready for new singers and we pray that God will lead new voices to our choir.
Fit 4 You—Please join us every Tuesday and Friday at 11:00am in Fellowship Hall. Come and be a part of this great wellness program to help you become more fit and healthy. All fitness and ability levels welcome.
Back-to-School Supplies!  We will be collecting supplies for John F. Kennedy Elementary School through next Sunday, September 15th.Please leave your donations in the Black & White Narthex.
3rd Sunday Mission Project! Have you noticed all the kids we have? We will resume our 3rd Sunday Mission Projects on September 15 when we write notes of love and encouragement to our 27 school-aged children. Yes…27 kids! We need many people to join in this project of nurturing and encouraging our children and youth. Mark your calendar for this project.
Food and Fellowship: We are looking for individuals or groups to host our monthly food and fellowship, which will resume in November. It can be as simple as bagels and cream cheese or as elaborate as the Scottish high tea! A sign-up sheet is on the new bulletin board in the black and white Narthex.  Please consider organizing one of these fun events!
Dear Fairmont Community, Thank you so much for your generous contributions and support of our distribution of boxed water instead of plastic bottles. I heard a lot of positive feedback from the Holiday at Home Committee as well as recipients of the water on the parade route. We appreciate your donations to help cover the cost as well as the time some of you spent putting labels on boxes. This was an important step in being better stewards of our Earth. If you'd like to learn more, check out boxedwaterisbetter.com and see all of the positive things that company is doing too. Thank you, Lisa Shearer on behalf of Session
Do you feel called to give back?  Would you like to become more involved with worship service? Your church is in need of 1-2 additional ushers. No experience is required. You will be assigned to an usher team lead by a 'Head Usher' who will serve as a mentor. The commitment is only 8-10 Sundays per year; flexible with your schedule. We encourage anyone over the age of 14, male or female, to raise your hand and help! Please reach out to Kate Barnett if you are interested in learning more!
The Women of Fairmont Fall Gathering is September 21st at 11:30am in Fellowship Hall. Our guest speaker is frequent visitor, Joni Sancken. Joni is an ordained Mennonite pastor, an Associate Professor of preaching at United Theological Seminary, an author, and a loving mom to Maggie and Teddy and wife to Steven Schumm , also a pastor. She is passionate about equipping pastors to preach relevant and powerful sermons in these challenging times. The title of her talk is "Nurturing Resilience and Hope in a Broken World." We'd love to have you join us for a fabulous meal, inspirational discussion, and fun time of fellowship. Childcare is available upon request. Please RSVP to your Circle leaders before September 17. If you aren't in a circle, you're still welcome to come, just please RSVP to Lisa Shearer
Parent Meeting for Children and Youth Families: After the church picnic, around 12:30pm, there will be a parent meeting in the chapel for anyone with a child or youth in our programs at Fairmont. Please make sure at least one parent attends to receive the program year overview and schedule, curriculum information, and registration forms for each child/youth.
PYC (Presbyterian Youth Connections), Fairmont's youth group, resumes this week! We are excited to announce some program changes this year. Beginning September 11th, PYC will meet on Wednesday nights from 6-8pm. This is based on parent feedback and is being tested on a trial basis. Rationale is outlined below. You are always welcome to join the PYC for dinner, and contact Rachel if you know a student who would be interested in participating! The Wednesday evening schedule will look something like this:
6-6:30pm: Dinner
6:30-7:10pm: Games
7:10-7:50pm: Small Groups (split into junior and senior high)
7:50-8pm: Closing (all together)
 Why Wednesdays?
Weekend extra-curriculars (band, orchestra, robotics, musical, etc.) and weekend homework taking precedence on Sunday evenings
Energy level of both youth and volunteers low on Sunday evenings
Other church programs now meet on Wednesday evenings
Benefits
Youth would get to interact with other programs at the church and members of Fairmont, allowing them to better share in the life of the church
Provides potential for shared meals with GIFT and Connections attendees
Avoids weekend commitments
Overnight at Cincinnati Zoo: On Friday, September 20th, we will be driving down to the Cincinnati Zoo to sleep with the manatees! This trip is open to any children and youth in grades 2-12. We will be leaving from the church parking lot at 5:30pm. Parents are welcome to attend with their children or leave them with us! During the program we will take a night hike, get a behind-the-scenes view of animal care at the zoo, participate in fun educational activities, and meet some animals up close! We will sleep in the manatee building with the gentle giants, and have breakfast and another animal show in the morning. Please let Rachel know by September 15th if you and your family plan on attending!
New to the Pew: We are excited to be continuing this program for the 2019-2020 program year! With the New to the Pew program, children in grades 3-5 remain in worship during the traditional worship service. They are provided with their very own worship bag with resources to use during the worship service. Our incoming third graders took the New to the Pew class this summer, and are ready to join our fourth and fifth graders who already stay in worship! This year, these kids will be invited to sit with Rachel in the front pew (on the Lectern side) so that she can work with them on learning the parts of our worship service. The pew will be marked off beginning next Sunday, September 15th, and the 3rd-5th graders will have the options of sitting either with their families or with Rachel.
Family Sunday: In the past, the third Sunday of the month has been designated as "Family Sunday," where there was no Sunday School and all families sat together. Beginning this year, Family Sunday will be moving to the first Sunday of each month. This allows for families to take Communion together and prevents Sunday School teachers from missing Communion.
Meet Jayne Stone! We have a new childcare provider in our nursery! Jayne Stone is a thirty-one-year-old mother and graduate student at The University of Cincinnati. Jayne will begin on September 15th working in the nursery from 8am-12pm each Sunday, and will be introduced that morning in worship, as well. We are thrilled to have someone to care consistently for our youngest members! Jayne says: "During the several years I stayed at home with my young children, I gained plenty of experience and knowledge that will serve me well as a childcare provider, and I'd like to put that experience to work for a community-minded establishment like yours. I am comfortable caring for groups of young children and providing gentle guidance to them as they learn through play the norms of social interaction. However, I also recognize the importance of allowing children space to discover the world on their own, and I aim to provide and maintain a safe and clean environment in which they may do all of this comfortably." Welcome, Jayne!