Jesus said to the disciples, "Let the children come to me."  Here at Fairmont, we still hold firm to his invitation.
Our youngest worshippers are very important to us, and so we offer a variety of opportunities for the children and their families!  From Sunday school to Vacation Bible School and all of the family events in between, our goal is to make "even the least of these" feel welcomed at Fairmont and encouraged in their faith journey.
VACATION BIBLE SCHOOL
One of our largest ministry outreach programs for children, Vacation Bible School at Fairmont is an "all-hands-on-deck" undertaking. We go all out to reach and teach the children about God's love for them using songs, games, stories, and more. Trust us – you don't want to miss out! Click here for information about VBS at Fairmont, including photos and online registration.
CHILDREN'S CHRISTIAN EDUCATION OPPORTUNITIES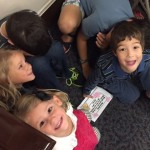 Children's Choir (school year only): 9:30AM
Each Sunday September through May, children ages 4 through 5 grade are invited to participate in the children's choir in the Sunday school wing.  The choir is directed by Vicki Ramga, and sings about every other month. We welcome all voices and abilities!
PreK Sunday school (school year only): 10AM
Children ages 3-Kindergarten are invited to participate in this class at 10am each Sunday, September through May, in Room A.  The class uses a variety of curriculum and is taught by Julie Boden.  The curriculum follows the lectionary, which is also what our pastors use in their preaching.  We hope this encourages families to go home and talk about their lessons together, whether they were in 'big church' or Sunday school!
Elementary Sunday School (school year only): 10AM Children in grades 1-5 are invited to this 10AM Sunday school class in Room B each Sunday, September through May. The class uses the Feasting on the Word curriculum and is taught by Carol Bussey. This curriculum also follows the lectionary, making it easy for all ages to talk about the lesson together!
10:30AM Sunday school classes (year round)
During the traditional worship service at Fairmont, children are invited to join their age appropriate Sunday school class after the children's talk in worship.  An elementary class is offered for children in 1st through 5th grade, and a preschool class is offered for children ages 3-Kindergarten.  Both classes use Growing in Grace and Gratitude, another lectionary-based, hands on curriculum, as well as Feasting on the Word.
*** Please note: 10:30am Sunday School classes are not offered on the third Sunday of each month or on special Sundays (Easter, etc.) in an effort to teach children the value of worshipping with their families.
For our tiniest members (year round)
For the convenience of our loving parents, we have a nursery/toddler room for our littlest blessings, newborns through 2-year-olds.  It runs from 8am–11:30am each Sunday.
ABOUT THE CHILDREN'S SUNDAY SCHOOL CURRICULUM
Feasting on the Word
The new Feasting on the Word Curriculum: Teaching the Revised Common Lectionary is an ecumenical, downloadable resource that incorporates the uniqueness of the award–winning Feasting on the Word commentaries.  This innovative resource incorporates the Feasting on the Word commentary style to explore one of the lectionary passages in ways suitable for all participants.  This curriculum begins with a solid scriptural and theological base for leaders and invites leaders and learners deeper into the rhythm of the church year.  It utilizes a common Bible passage for all learners, making it easy for families to learn and live out their faith together.  For more information, go to www.feastingontheword.net/curriculum/.
Growing in Grace and Gratitude Growing in Grace & Gratitude is rooted in the foundation of Presbyterian identity where God's grace and our gratitude are the heartbeat of our faith, life, and worship; extends an invitation to discipleship that inspires children to learn and practice hospitality, generosity, and love; and reaches beyond Sunday morning, encouraging children to live their lives as an expression of God's grace. For more information, visit http://www.growinggracegratitude.org/